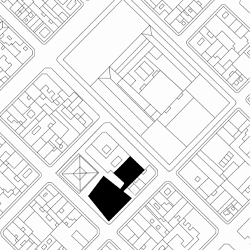 Mathias Klotz, Edgardo Minond, Germán Hauser
Mixed uses – Offices – Mall – Hotel – Parking lot
Centro, Montevideo, Uruguay
The project, to be developed in the central area of Montevideo city, is specifically located on the block surrounded by Ejido, Soriano, Aquiles Lanza and San José streets. On one fourth of San José Street, sits the Mercado de la Abundancia, whose inner side looks on to Julio Castro passage.
The integration of these three elements, as well as the peculiarities of the block, represent a unique opportunity to develop a project that aims at solving the needs of a business as well as the specific needs of the urban environment where it is located.
New Public Space
The proposal presents a complex aboveground that generates an open ground floor that encourages public use. A square is created in the center of the block. In this way, Mercado de la Abundancia will have a complementary outdoor area, therefore integrating the new complex, the market and the existing passages (currently degraded).
The project's boundaries are Ejido, Soriano and Aquiles Lanza streets and Julio Castro Passage. This peculiar situation and the decision of freeing the ground floor allows us to create a building that can be crossed on foot from different angles, therefore contributing to downtown Montevideo by providing it with a new high quality urban setting.
Proposed programs
It is a mixed-use development in line with the needs perceived in this sector, mainly as follows:
Open Mall
At the ground floor and mezzanine, we have designed an open mall as well as accesses to several sectors in the complex. This area integrates Mercado de la Abundancia, which will benefit from a new high-end access from passage Julio Castro.
Hotel
An urban hotel has been designed at the second level. It will benefit from the services of the whole complex.
Parking
Public and private parking areas have been designed. They will cover the parking needs of the building's residents as well as of people visiting Mercado de la Abundancia, and the parking needs generated by other activities in the area.
Residential units
The complex has 1, 2 and 3 bedroom units. They have been distributed on two blocks with independent access.
Offices
On Ejido Street, offices have been designed at free levels. They will cover the public and private sector's demand. The idea is to improve urban life by integrating the various uses proposed.
This blend of uses aims at ensuring day and night time activities in the area due to the complementary hours of the various activities that will take place at the complex.