POLO CIENTÍFICO TECNOLÓGICO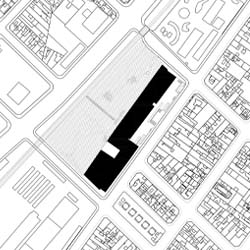 Germán Hauser, Daniela Ziblat, Emilio Schargrodsky, Roberto Parysow, Jessica Parysow

Mixed uses- Offices- TV studio- research laboratory- Centro cultural de la ciencia- Restaurant- Parking lot
Palermo, Ciudad Autónoma de Buenos Aires, Argentina
First Prize in the National Competition, Ex Bodegas Giol.
The project has been developed based on the presence of existing buildings of high cultural value deeply rooted in collective memory. The proposal is not just to keep them, but also to enhance them through the generation of a public area that allows entering them through different angles.
A "unique building" is proposed. It takes shape in line with the specific issues presented in the design program, its sustainability reasons, or by providing urban answers in areas where there is friction with the neighborhood. From a more domestic approach, on Godoy Cruz street, the program is clearly presented by means of blocks, whether new or existing, representing the various programs involved.
As a linear park, the project has been conceived as a single building which is an urban reference of a higher, linear and uniform scale, in agreement with the space that it occupies and defines.
The project was based on several strategies that encourage people to get close to the building and therefore somehow take part in the activities that take place in it.
On one side, through areas have been included between the entry plazas and the linear park located towards Juan B. Justo Avenue. These pedestrian areas present the building as permeable and accessible.
In turn, several areas and public access uses have been strategically distributed around the halls of different buildings. Coffee-shop, exhibition and restaurant areas have been located in direct relation to the park.
SUSTAINABILITY
We have designed the building following a sustainability criterion that involves the functional design itself as well as installations, by means of active and passive systems whose main objective is to reduce standard energy consumption.
The preservation of existent buildings is in itself a sustainable operation that saves energy (apart from the historical values that they represent). The project has a ventilated façade system, by means of which the inner temperature can be controlled, but it also defines its esthetics and materiality.
In order to achieve a lower water consumption, the project includes partial treatment of gray waters. In turn, domestic water is heated through solar panels.
Photovoltaic panels generate enough energy to light common areas and first-response emergency systems. A BMS system (Building Management System) constantly monitors electric demand and the technical alarms, ensuring lighting control of the different sectors.