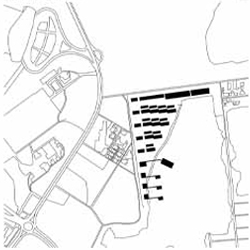 Carlos Ferrater, Lucia Ferrater, Germán Hauser

Mixed uses – Promenade – Housing – Offices – Hotel- Mall – Center of nautical activities
Carrasco, Montevideo, Uruguay
Place blocks in the shape of a fan to open views and allow all units to have a view to the lake.
Tier the buildings against the lake line by integrating them among the trees, therefore configuring linear parks organized according to a grid of leisure and recreation areas, while respecting the existing vegetation. This strategy takes advantage of higher terraces and allows us to reach the water edge at a more standard height.
Create a front on the public street that offers higher constructions where closing walls are represented as sculptural elements following a geometrical rhythm.
Unfold the buildings into two blocks with different widths to get richer typologies and interleaving them to get a skyline with a double lights and shadows effect.
Controlled entry into the whole building through the north point, where an inner road starts connecting all the blocks and giving access to underground parking lots.
All business activities to be located at the blocks' closing walls at the ground floor, therefore creating open areas facing the public street.
All offices to face Calcagno Avenue.
Creation of a winding path in the leafy forest to access the facilities at the lake: sailing club, restaurants, fitness and wellness centers.