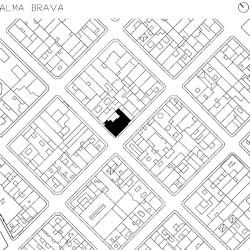 Mathias Klotz, Edgardo Minond, German Hauser, Daniela Ziblat
Housing – Commercial premises
Barrio Sur, Montevideo, Uruguay
Selected "Premio Nacional de Arquitectura Sustentable 2017" organized by Fadea
Barrio Sur, neighboring downtown Montevideo and quite close to Ciudad Vieja-it was the first neighborhood off its protective walls- is characterized by historical wealth as well as a significant cultural tradition closely related to candombe, an Afro-Uruguayan musical expression.
The Alma Brava building is erected on a corner plot at the intersection of Soriano and Andes streets.
It includes a range of units with one or two bedrooms, mostly. It is developed on ten levels devoted to housing and level 11, which is for common use. On this level, there is an indoor meeting place, an area with grills and there are several outdoor green areas. These spots were conceived to enjoy long views of the sea, the old city and downtown Montevideo.
SUSTAINABILITY                                                                                                                                  
The project was designed to lower usual energy and water consumption in residential buildings. A rainwater-harvesting system has been implemented, whereby rainwater is stored and used to irrigate green areas.
All doors and windows have solar protection systems and double-glazed windows with air chambers for thermal insulation. In turn, a complementary system of solar water heating has been implemented and plans have been made for the installation of photovoltaic panels to generate electrical energy to supply power to the building's common areas.