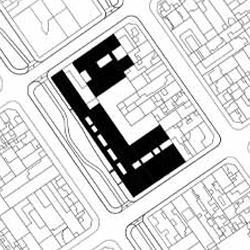 Mathias Klotz, Edgardo Minond, Germán Hauser, Daniela Ziblat

Residential and studio complex- Commercial premises- Public Park
Belgrano, Ciudad Autónoma de Buenos Aires, Argentina
The project is located in an area of the City of Buenos Aires known as the Donado-Holmberg corridor. This corridor consists of blocks that were partly demolished in 1976 due to the plans to build a Buenos Aires central highway, AU 3, in that same area. This highway, which was fortunately never built, would violently split the neighborhoods that ran next to it. However, dropping former AU3 project brought about the squatting of the units that had survived demolitions and the State's abandonment. The plots were eventually reposed by the State after their expropriation.
Finally, in December 2009, the City of Buenos Aires legislative power passed a law that provides a housing solution to dwellers, while setting specific urban indicators for the sector and authorizing the government of the city to sell the land.
Urban indicators determine the possibility of building apartment buildings up to 15 meters high. In turn, they establish that the buildings facing Donado or Holmberg streets should develop a public linear park in agreement with the specifications foreseen.
The GreenHaus project is presented as a housing complex in which units are organized in groups. Typologies range from 1 to 5 rooms. Most of these units expand into patios or large terraces, recreating a house feel.
In it, common areas for circulation and leisure are like inner streets, adding value to the different walkways that residents take inside the building.
Four common service areas have been determined throughout the complex.
At the ground floor, several stores for gastronomic purposes have been distributed in relation to the linear park. The project seeks to incorporate nature as an additional building material. In this way, apart from the complex's own gardens and the units' terraces, there are green screens on the balconies that convey a particular language.